Drone enthusiasts looking to start their own business and aviation media seeking insider knowledge of how industry is using small unmanned aircraft systems (sUAS) to inspect and protect are invited to attend two presentations by Embry-Riddle Aeronautical University. They will be held during this year's annual Experimental Aircraft Association (EAA) AirVenture in Oshkosh, Wis. occurring July 23-30.
"Starting a sUAS Business" (11:30 a.m. to 12:45 p.m. Friday, July 27 at Forum Stage 8) will examine how to enter – and ultimately succeed – in the competitive market of unmanned systems. Information provided will include regulations, laws, technology, application and keys to investing in the correct aircraft, sensors and software.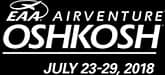 The second presentation, "Industrial Inspection with sUAS" (2:30 to 3:45 p.m. Friday, July 27 at Forum Stage 8) will delve into the use of unmanned aircraft, sensors and software as well as specific mission areas currently being utilized by construction,
insurance, and public works industries.
A question and answer session will follow each 45-minute presentation, and no registration is required.
Both presentations will be led by Embry-Riddle Worldwide sUAS Flight Department Chair and Assistant Professor of Aeronautics David Thirtyacre with support from Worldwide Associate Professor of Aeronautics Dr. Scott Burgess. Thirtyacre is a retired USAF F-16 pilot and instructor at the university for 11 years, who also coordinates EAA AirVenture's Drone Cage Obstacle and Speed Course, sponsored by Embry-Riddle Aeronautical University. Burgess, a former Army aviator and instructor pilot with more than 30 years of military and civil aviation organizational experience has taught at Embry-Riddle since 1999 at both Worldwide and the university's Prescott, Ariz., campus. His sUAS expertise includes helping draft a comprehensive UAS Pilots Code guide for new and experienced drone users and working with teams to test sUAS software that helps emergency teams during disasters.
"Not only will these forums educate and inform sUAS operators and entrepreneurs, it will also showcase the amazing unmanned systems degrees and projects we engage in at Embry-Riddle across all of our campuses and through our Professional Education program for those already in this exciting field," said Thirtyacre.
For more information on EAA AirVenture Oshkosh 2018, go to eaa.org/en/airventure. Embry-Riddle's booth (sections 49,50,57,58,59) is located within the Aviation Gateway Area.