Identified Technologies the leading fully-managed commercial drone solution announced Truck IQ™, a new Internet of Things (IOT) device for the construction market. Truck IQ is a sensor package and software solution that measures load and cycle times from each vehicle on a job site and combines it with aerial drone data to decrease unit costs and cycle times to move earth faster. Truck IQ can be used with any vehicle involved in the process of earthmoving (such as excavators, haul trucks, and bulldozers).
There is a 10-20% variability in the standard operational costs of large earthmoving projects. Difficulty measuring sites during planning and execution can lead to razor thin profit margins. Truck IQ helps contractors classify and quantify work with sensors on each vehicle. This allows them to ensure profitable work week to week, as well as create a library of past work to put in more informed and profitable bids in the future.
Truck IQ is currently in beta with several national excavation companies and will be widely available in Q3. Jason Tosi, Construction Technology Coordinator at I+icon USA comments "Based on our work with Identified Technologies' drone services, we saw an opportunity for expansion of our relationship through the use of a new product. The incorporation of an affordable tracking system to know where trucks are loaded and dumped will help us to better calculate production costs, allow for more accurate billing, and give us more information to assist in overall decision making. Identified has been very receptive to our feedback during the development process, and I believe this product could significantly change how we manage our large earth moving projects."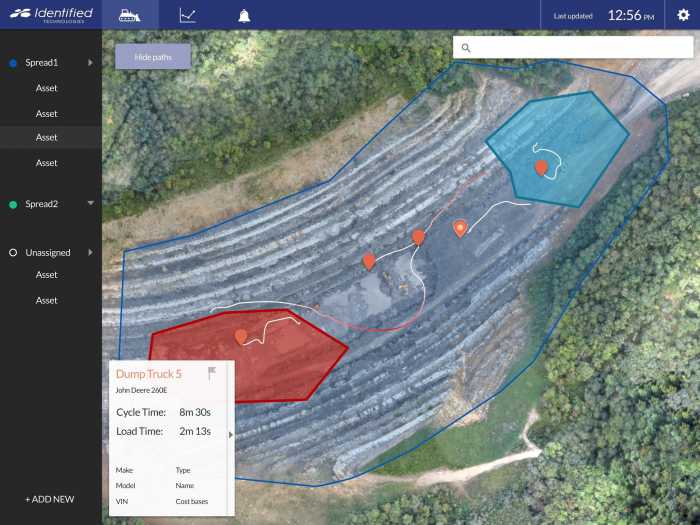 Movement patterns, truck type, cycle and load times for each vehicle.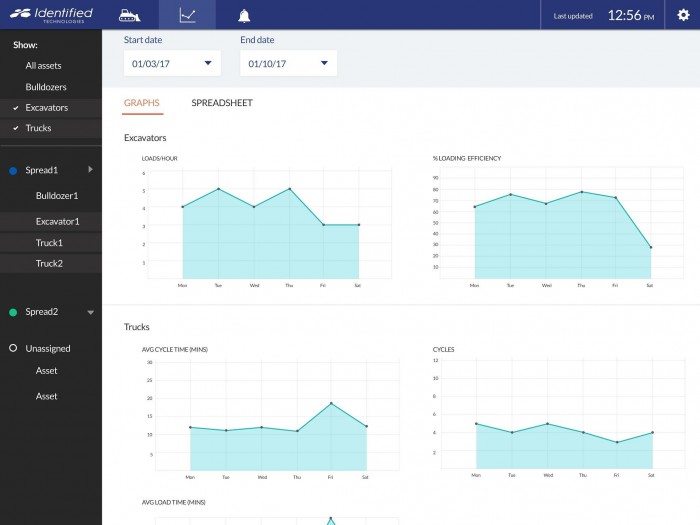 Vehicle performance analytics.

Dashboard for progress, costs, and cost / unit moved.
Dick Zhang, CEO of Identified Technologies said, "The concept for this product came directly from our customer base. Several companies told us they wanted to create this themselves but didn't have the internal capabilities. This product is transformative for modern construction companies offering a level of tracking that has never been possible until now. We plan to release more devices in the future, as we create new technology to help industry leaders track progress and improve efficiency on their increasingly connected job sites."
About Identified Technologies
Industrial leaders use Identified Technologies fully-managed commercial drone solution to increase project visibility and team productivity. Construction and excavation companies reduce their costs and win more business using job site data and analytics. Identified empowers ENR 400 companies, including PJ Dick, EQT, Vulcan and Casella, with the ability to track progress on highways, well pads, mines and landfills in near real-time. Identified's integrated software and services takes care of everything from FAA compliance and flight planning, to advanced analytics.